Some companies have relatively more of their value in near-term cash flow (for ex. General Motors Corporation). Others (for ex. Tesla), are growth stocks, with a greater proportion of their market value based on long-term expected future cash flow. It seems that coronavirus pandemic has hit mainly the first group, the "low equity duration" companies. A new academic research paper written by Dechow, Erhard, Sloan, and Soliman explains how the equity duration factor can be used to assess how are companies exposed to short-term unexpected macroeconomic events (like COVID-19 pandemic), and how equity duration sensitivity can also explain relative underperformance of value vs growth stocks during the last bear market.
Authors: Dechow, Patricia and Erhard, Ryan and Sloan, Richard G. and Soliman, Mark T.
Title: Implied Equity Duration: A Measure of Pandemic Shutdown Risk
Link: https://papers.ssrn.com/sol3/papers.cfm?abstract_id=3623588
Abstract:
Implied equity duration was originally developed to analyze the sensitivity of equity prices to discount rate changes. We demonstrate that implied equity duration is also useful for analyzing the sensitivity of equity prices to pandemic shutdowns. Pandemic shutdowns primarily impact short-term cash flows and thus have a greater impact on low duration equities. We show that implied equity duration has a strong positive relation to US equity returns during the onset of the 2020 coronavirus lockdown. Our analysis also demonstrates that the underperformance of 'value' stocks during this period is a rational response to their lower durations.
Notable quotations from the academic research paper:
"Bond duration is a common summary measure of interest rate risk for fixed income securities. Dechow, Sloan, and Soliman (2004) adapt this measure to equity securities. They develop a simple algorithm for predicting the amount and timing of future cash flows and then apply the standard duration formula to compute a measure of implied equity duration. They show that their measure of implied equity duration provides an effective measure of discount rate risk in equity securities.
In this paper, we demonstrate that implied equity duration is also effective in measuring the risk of equity securities to unexpected macroeconomic events that disproportionately impact short run cash flows. Specifically, if an unexpected event causes the near-term cash flows of firms to be severely curtailed but has relatively little impact on the longer-term cash flows, then stocks with most of their expected future cash flows concentrated in the near-term (i.e., lower duration equities) will suffer the greatest loss in value.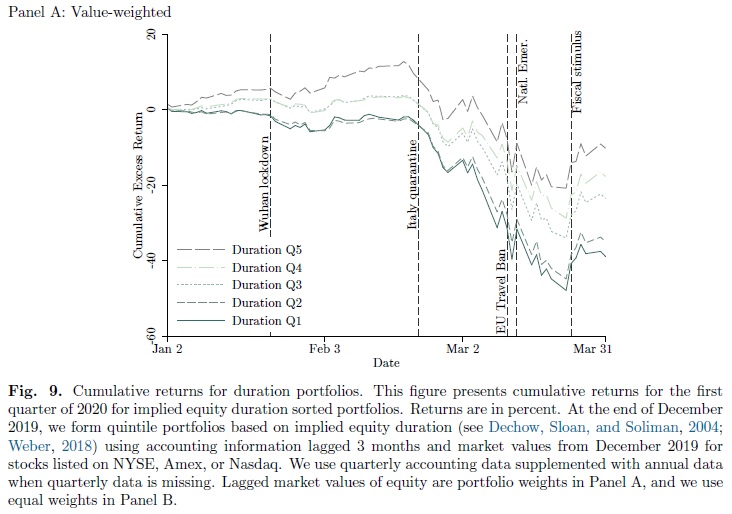 We examine the ability of implied equity duration to explain US stock price behavior during the onset of the pandemic and find that it is effective in explaining both the magnitude and variability of equity returns. Over the three months between January 1, 2020 and March 31, 2020, we find that the returns from a hedge portfolio going long in the highest duration quintile (stocks with cash flows further into the future) and short in the lowest duration quintile exceeds 36% (144% on an annualized basis). Low duration equities also exhibit higher risk in the form of both higher market betas and higher stock return volatility over this period.
Visit Quantpedia to read the full article: https://quantpedia.com/implied-equity-duration-as-a-measure-of-pandemic-shutdown-risk/
Disclosure: Interactive Brokers
Information posted on IBKR Campus that is provided by third-parties does NOT constitute a recommendation that you should contract for the services of that third party. Third-party participants who contribute to IBKR Campus are independent of Interactive Brokers and Interactive Brokers does not make any representations or warranties concerning the services offered, their past or future performance, or the accuracy of the information provided by the third party. Past performance is no guarantee of future results.
This material is from Quantpedia and is being posted with its permission. The views expressed in this material are solely those of the author and/or Quantpedia and Interactive Brokers is not endorsing or recommending any investment or trading discussed in the material. This material is not and should not be construed as an offer to buy or sell any security. It should not be construed as research or investment advice or a recommendation to buy, sell or hold any security or commodity. This material does not and is not intended to take into account the particular financial conditions, investment objectives or requirements of individual customers. Before acting on this material, you should consider whether it is suitable for your particular circumstances and, as necessary, seek professional advice.
Disclosure: Displaying Symbols on Video
Any stock, options or futures symbols displayed are for illustrative purposes only and are not intended to portray recommendations.